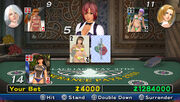 Blackjack is the most-widely played casino banking game in the world, and is played in Dead or Alive Xtreme Beach Volleyball, Dead or Alive Xtreme 2 and Dead or Alive Paradise. It's used as the basis of Girls of DOA BlackJack.

The standard game is played with one or more card decks containing 52 cards. The rules of the game involve adding the value of a hand of two cards in hopes of being dealt a value of exactly twenty-one. If a value of less than twenty-one is dealt, the player may choose to be dealt single cards until they either reach a value of twenty one, reach a value they feel comfortable to play, or reach a value that exceeds twenty-one.
The winner holds a hand with a value of, or nearest to, twenty-one without exceeding it. The game is played in many variations at casinos with different table rules. Much of blackjack's popularity is due to the mix of chance, skill, and the publicity that surrounds card counting (varying one's wager and playing strategy to take advantage of knowledge of the cards yet to be dealt).
In terms of card values; Jack, Queens and Kings are all counted as ten and Aces can be counted as either one or eleven as per the player's choice. All other cards have the same values as their numbers indicate.
| | |
| --- | --- |
| Term | Explaination |
| Hit | Take one more card. |
| Stand | Challenge the dealer with your current hand without drawing a new card. |
| Double Down | Double the bet on the condition that one more card is drawn first. |
| Surrender | Forfeit the game and only pay half of the bet. |
| Split | Split your hand into two separate hands if 2 of the cards have the same number. This creates two games, meaning two bets will have to be placed. |
| Insurance | When the dealer's face card is an Ace, you can set aside half your bet as insurance money. |
| Even Money | When you have "Blackjack" (an Ace, and either a 10, Jack, Queen, or King) and the dealer face card is an Ace, receive double the amount you bet. |