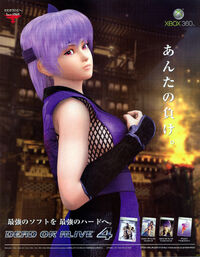 Dead or Alive: Code Chronos was the code name given to a cancelled Dead or Alive video game.
During a interview with Play Magazine in July, 2006, Tomonobu Itagaki stated that Code Chronos would be a prequel to the Dead or Alive series, and would relay the story of Ayane and Kasumi before the first tournament. The progress of Code Chronos seemed to come to a halt due to Itagaki's dispute with Tecmo.
On the 5th November, 2010, in a interview with Famitsu, the current head of Team Ninja, Yosuke Hayashi said that Code Chronos was offically canceled, and that the development of the project never really took off, as it never got past the "framework level".

Ad blocker interference detected!
Wikia is a free-to-use site that makes money from advertising. We have a modified experience for viewers using ad blockers

Wikia is not accessible if you've made further modifications. Remove the custom ad blocker rule(s) and the page will load as expected.