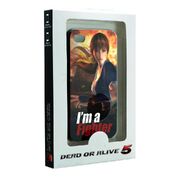 A Dead or Alive 5 iPhone Case will be released as a pre-order bonus for copies of Dead or Alive 5 bought from UK online gaming retailer ShopTo.Net. The case features a render of Kasumi on the back, with the tagline "I'm a Fighter" over the top. It was designed by Chin Soon Sun, the community manager for Tecmo Koei Europe, and will only fit the iPhone 4 and the iPhone 4S.[1][2]

References
Edit
Ad blocker interference detected!
Wikia is a free-to-use site that makes money from advertising. We have a modified experience for viewers using ad blockers

Wikia is not accessible if you've made further modifications. Remove the custom ad blocker rule(s) and the page will load as expected.