We have to grow stronger...

This article/section is in need of improvement. If you have a good knowledge of the subject, feel free to add your information to the article. Once improvements have been made, this notice may be removed.

Dead or Alive Xtreme 3 (also known as DOA Xtreme 3 or simply Xtreme 3) is the 18th game in the series overall, as well as the fourth game in the Xtreme series. Originally to be released on February 25, 2016, later delayed to March 24, 2016.[1][2]
The game comes in two named versions: Dead or Alive Xtreme 3: Fortune (デッドオアアライブエクストリーム3 フォーチュン, Deddo oa Araibu Ekusutorīmu Surī Fōchun) for the PlayStation 4, Dead or Alive Xtreme 3: Venus (デッドオアアライブエクストリーム3 ヴィーナス, Deddo oa Araibu Ekusutorīmu Surī Vīnasu) for the PlayStation Vita and Dead or Alive Xtreme: Venus Vacation (デッドオアアライブエクストリーム ヴィーナス バケーション , Deddo oa Araibu Ekusutorīmu Vīnasu Bakēshon) for PC.[3] This also marks the first Xtreme title to be put on a PlayStation home console. However, this is the second Xtreme title to appeared in PlayStation platform since Dead or Alive Paradise. It is also the third Dead or Alive game to be on PC version, as well as the first Xtreme title to be on the PC.[4]
The PlayStation versions of the game are currently only available in the Asian regions due to certain specific reasons. However, it does not affect the PC version, which is much safer. Additionally, PC version will be F2P/Free-to-Play.[5]
The game will also include a VR mode on September, which had been hinted at in the 2016 Dead or Alive Festival, but its VR support, which were meant to be released on October 13, 2016 was suddenly delayed due to technical problems, leaving the actual release date remain unknown. When first unveiled to the public, it gained some controversy due to the demonstration of the gameplay having Kasumi giving lines and body language that indicated that she was unwilling to be touched, implying sexual harassment, until it was announced to be released on January 24, 2017.[6][7] Nibori later explained that her reaction in the demo was because the demo was standalone, and that playing the game with the VR connected will have the girls being more willing to be touched depending on their bond level. The free to play version was released on October 13, where Kasumi is confirmed to be playable for free, although the other girls still require either payment or getting the full version.[8] On June 28, 2017, a new title for the VR versions was given as Dead or Alive Xtreme Sense, which will be part of the Sense series of games for various Koei-Tecmo games for the PlayStation VR sense system.[9] It was reported that the VR mode for the game will include an ability to utilize the smell and touch methods (the former to smell the girls, and the latter with an undefined purpose in the showcase), and also cause a splash via a mist icon.[10]
Reminiscing about the old days at New Zack Island, Zack has opened up the resort once again.
However, due to his commitments on another important job, Zack appoints a temporary owner (the player) to be in charge of the island while he is gone.
Main story
Edit
To be added...
Characters
Edit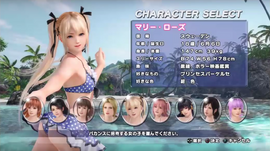 Playable charcters
Edit
Kasumi, a nukenin ("missing shinobi") and former member of the legendary Mugen Tenshin clan. As of late, whenever Kasumi reads her fortune, it leads her to New Zack Island. Wanting to know what's waiting for her, Kasumi goes to the island to find the answer.
Momiji, a kunoichi of the Hayabusa clan and the last Dragon Shrine Maiden. After receiving an invite claiming to be from her mentor, Ryu Hayabusa, Momiji reluctantly goes to New Zack Island to take a break from her training.
Hitomi, a beautiful world-class fighter born to a Japanese mother and strict German father, who taught his daughter karate from an early age. Missing Ein after he returned to his true identity as the shinobi Hayate, Hitomi goes to New Zack Island to get distracted from Hayate and have some fun before returning to her training.
Helena Douglas, the youthful leader of the newly-reformed DOATEC. Helena accepts an invitation from Zack to go to New Zack Island. She at first wonders what he is planning this time around, though decides that it is none of her concern and wants to take a break.
Marie Rose, the servant of Helena whose devilish smile hides her secrets and keeps her shrouded in mystery. Though puzzled as to why her employer wanted her to take a vacation at the island, Marie Rose accepts and goes to enjoy the island.
Honoka, a sweet, easygoing kind of girl who has been raised all of her life by her gentle and loving grandmother. Winning a free trip to New Zack Island from a raffle, Honoka goes to the island to have some fun and enjoy herself.
Kokoro, a positive and cheerful young lady who has mastered the martial art ba ji quan. Happy to be back at New Zack Island, Kokoro decides to just go and enjoy her vacation so that can make some happy memories of the time she spent at the island. She also decides to do more training so that she can win the next tournament.
Ayane, the brilliant master of the Hajinmon sect, the "dark side" of the Mugen Tenshin clan. Hearing that a certain nukenin was heading to New Zack Island, the clan sends Ayane on a mission to find out more.
Misaki, the new character who is exclusive to PC version's Venus Vacation. She is an exclusive supporter, who always supports the owner. See her off with a smile full of spirit, and who knows what kind of things she may be able to work hard at? She is a modern day girl who will lightheartedly come into contact with the owner like a friend. But there is also a side to her that avoids exposing her skin.[11][12]
Non-playable character
Edit
Zack, the man responsible for New Zack Island. Busy on another important job, Zack appoints a temporary owner to take care of the island while he is gone.
To be added...
Development
Edit
In 2013, it was mentioned that they had done development for Dead or Alive Xtreme 3, but it ran into delays.[13] On May of that same year, Yosuke Hayashi mentioned that he was reluctant to make a game due to poor sales from Xtreme 2, although he nonetheless strongly implied that he will make it if fans requested it.
Team Ninja had trademarked the title as of May 2, 2014.[14] In addition, Team Ninja, repeating what Hayashi stated, indicated that they are interested in creating Xtreme 3, but want to make sure that the other fans are okay with it via a mail system.[15][16] It was eventually indicated to be in development by Hayashi during Dead or Alive Festival 2015, where he stated that the game he was working on was "a game where Dead or Alive characters go to a southern beach on vacation", strongly hinting at Xtreme 3, also stating that more information will be revealed at a later date.[17] The official Facebook page for the franchise eventually confirmed that the game Xtreme 3 is indeed being worked on, although it currently only going to be released for the Japanese and Asian markets.[18] However, Hayashi has stated that if demand is sufficent, some form of the game may be released in the west.[19] A petition has been started to gather support.
On August 18, Yoshuke Hayashi unveiled that there will be two versions for the game which would be included on PlayStation 4 and PlayStation Vita, with the version names being named Fortune and Venus, respectively, with more to be revealed on August 20.[3] It is also implied that only the top nine female cast will be included as downloadable characters in Xtreme 3, although there's no plan on other downloadable contents, besides these top nine female characters.[20] Some people were not happy with the cutting out of six of the female characters, with at least one forming a petition to put the cut characters into the game.[21][22]
After the poll of the characters to appear in this game ended, in a same time it was announced for Spring 2016 release, there will be a first print costume for Marie Rose on Fortune/PS4 version and Honoka for Venus/PS Vita version. As well as a support of PlayStation Virtual Reality compatibility.[23]
There's also new modes like in Girl Mode (where the player can take direct control of the same girl the player has selected) and Owner Mode (where the player become an owner of another island and can do various things with the girls such as dating one of them, marking the first game to have an actual dating simulation terminology).[24]
Characters
Edit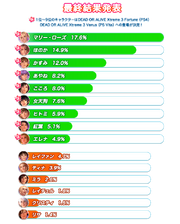 Once the voting on which 9 characters from Dead or Alive 5 (and its updates, excluding Phase 4 (due to being Kasumi's clone), Naotora Ii and Mai Shiranui (due to both of them being guest characters and because, at the time of the voting, they have not been officially announced for the Dead or Alive 5 Last Round roster) and Virtua Fighter guests (Sarah Bryant and Pai Chan)) to be in the game is over, these are the characters who will appear in the game in following the characters's rank votes[25][26]:
Vote Winner/Confirmed Characters
Edit
Marie Rose
Honoka
Kasumi
Ayane
Kokoro
Nyotengu
Hitomi
Momiji
Helena Douglas
Vote Lost/Unconfirmed Characters
Edit
Although it was previously denied that there will be any DLC for the characters and activities, an interview with Hayashi in the March 2016 issue of Dengeki PlayStation implied the possibility of the deconfirmed characters and other DLC activities eventually being included into the game.[27] On a related note, a glitch sometimes occurs during a Volleyball match where Tina's Japanese Voice is heard saying "Nice Spike!" instead of the assigned partner's voice, implying that Tina may have been originally been considered one of the likely winners early on.
Special/Collector's Edition
Edit
There are at least three collector's edition planned, which contain the following:[28]
DEAD OR ALIVE XTREME 3: FORTUNE (COLLECTOR'S EDITION)
A physical copy of DOAX3 for the PlayStation 4
"Extreme Sexy Costume F-Set" with 9 different outfits
48 page special Gravure Photobook "Fortune"
One Deck of Fortune Playing Cards with DOAX3 Themed Assets
One Marie Rose Extreme 3D Mouse Pad
DEAD OR ALIVE XTREME 3: VENUS (COLLECTOR'S EDITION)
A physical copy of DOAX3 for the PlayStation Vita
"Extreme Sexy Costume V-Set" with 9 different outfits
48 page special Gravure Photobook "Venus"
One Deck of Venus Playing Cards with DOAX3 Themed Assets
One Honoka Extreme 3D Mouse Pad
DEAD OR ALIVE XTREME 3 (SAIKYO PACKAGE)
Dead or Alive Xtreme 3: Fortune Collector's Edition (PS4)
Dead or Alive Xtreme 3: Venus Collector's Edition (PS Vita)
9 B2 Sized (500W x 707L millimeters) Extreme Bath Posters
Dead or Alive Xtreme 3 Fortune [Collector's Edition] PS4JPN US$ 149.99pre
Dead or Alive Xtreme 3 Venus [Collector's Edition] PSVitaJPN US$ 139.99pre
Dead or Alive Xtreme 3 [Saikyou Package] PSVita, PS4JPN US$ 399.99pre
Dead or Alive Xtreme 3 Fortune PS4JPN US$ 73.99pre
Dead or Alive Xtreme 3 Venus
Production credits
Edit
See: /Production credits
See: /Quotes
Packaging artwork
Edit
Promotional videos
Edit
Character-centric Trailers
Promotional Images
Edit
Before release date was delayed, Dead or Alive Xtreme 3 both Fortune and Venus had a same released date with 2016 Otomate PlayStation Vita games Diabolik Lovers: Lunatic Parade, and the ongoing PlayStation console games Kamen Rider's latest Warriors-like game, Kamen Rider: Battride War Genesis.

Intrestinglly, both Venus version and Lunatic Parade are PlayStation Vita games.
Though both Xtreme 3 (in different last title name on each console) and Battride War Genesis are PlayStation 4 and PlayStation Vita games however, unlike Battride War Genesis, Xtreme 3 has no PlayStation 3 version announced. As the game's current release date is at March 24, Dead or Alive Xtreme 3 shares a same release date as Battride War Genesis' Kamen Rider Ghost Boost Damashii Character Add-On Pack.
Dead or Alive Xtreme 3 current release date is March 24. Which Hatsune Miku: Project DIVA X and Dead or Alive Xtreme 3 released same day. However, Project DIVA X will be released PlayStation Vita only. Since PlayStation 4 version will be released in late August. However, unlike Project DIVA X, which has a western release, Dead or Alive Xtreme 3 does not have western release for now.
In order to promote both Dead or Alive Xtreme 3 and Project Diva X, Koei Tecmo teamed up with SEGA to release a downloadable promotional boxart featuring Hatsune Miku and Marie Rose as well as a free downloadable theme on the Japanese and Asian PlayStation Store on PS Vita and PS4 and a downloadable wallpaper.[29]

Two promotional artwork and boxart Dead or Alive Xtreme 3 both Fortune and Venus are reminiscent to 2013 Otomate PlayStation Portable Jewelic Nightmare limited boaxrt and promotional image.

It should be noted both Marie and Honoka first-print costume are alluded to beautiful nightmare and sweet real version in this game.

Dead or Alive Xtreme 3 is similar to Super Smash Bros. for Wii U/Nintendo 3DS, Such as having two different console ports for both home and portable version, but with 2 different titles.
This is the first game to have an actual dating simulation.
This is the first game of the Xtreme series that will not include a soundtrack with real-life songs.
During the leadup to release, Famitsu's online news proceeded to do a "countdown" of a set of three images for each of the nine girls starting on March 15. The order of the girls being released is the same as the order the girls came in during the voting process from last place to first place.[30][31][32][33][34][35][36][37][38]

Similarly, since January 31, each Monday of the week had a character trailer for the nine girls, the only exceptions being Honoka's trailer, which had actually been released on March 17, a Thursday, and Kasumi's trailer, which had been released on March 22, a Tuesday (coincidentally on the same day as Kasumi's image set on Famitsu). The order was mostly the same as the voting order, with the exception being that Honoka and Kasumi switched places (Kasumi coming last), and Marie Rose came first.

This is the first Xtreme game (including Dead or Alive Paradise) to not have Zack Island befall a major disaster in the ending of the vacation.
Notes and references
Edit
External links
Edit
Ad blocker interference detected!
Wikia is a free-to-use site that makes money from advertising. We have a modified experience for viewers using ad blockers

Wikia is not accessible if you've made further modifications. Remove the custom ad blocker rule(s) and the page will load as expected.