Like what you see?

This article/section is in need of a few images. Perhaps you can help by uploading or finding and adding a good picture or two.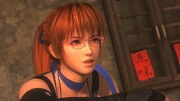 Glasses are a customization option in the Dead or Alive 5 games for all the female characters (with the exceptions of Mai Shiranui, Pai Chan, and Sarah Bryant), as well as Eliot, Ein, and Leon. Some characters wear darker-lensed variations called sunglasses (examples being Tina and Christie). Their frames come in the following colors:
Ad blocker interference detected!
Wikia is a free-to-use site that makes money from advertising. We have a modified experience for viewers using ad blockers

Wikia is not accessible if you've made further modifications. Remove the custom ad blocker rule(s) and the page will load as expected.