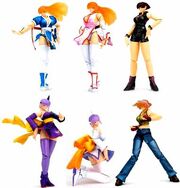 The Kaiyodo-Takara Mini Action Figures are a 6-piece series of figurines that were published by Kaiyodo-Takara in 2005. The collection features figures of Hitomi, Leifang, and two versions of both Ayane and Kasumi.

Description
Edit
The figures are made from PVC and ABS plastics, and come fully painted. Each figurine has verious joints along the limbs, which allows them to be placed in different action poses; they also include tall black stands so they can pose in mid-air kicks. The girl's hair appear to flying around, it give the illusion of movement.
Hitomi wears jeans and a tank top with fighting gloves, Leifang is in her black leather outfit with a short ponytail, Kasumi is wearing her trademark blue dress, and Ayane is in her butteryfly purple dress. Other versions of Kasumi and Ayane are the same as the original figures, except the clothes are white.
Ad blocker interference detected!
Wikia is a free-to-use site that makes money from advertising. We have a modified experience for viewers using ad blockers

Wikia is not accessible if you've made further modifications. Remove the custom ad blocker rule(s) and the page will load as expected.