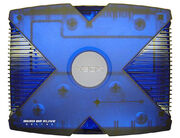 The Kasumi-chan Blue Xbox was a limited edition Xbox console, that was released simultaneously with Dead or Alive Ultimate. It is now considered to be a collector's item.
Released on March 25, 2004, in Japan, the system had a limited manufacturing run of 5,000 units, with a original retail price of ¥22,800 ($215). The console was a standard Xbox console system with a translucent blue case (based on Kasumi's iconic blue costume), and had "Dead or Alive Ultimate" written in white lettering in the lower left corner on the top of the case. The console also came with a matching controller, an Xbox DVD Kit, an Xbox Live Starter Kit with a free one-year membership, a copy of Dead or Alive Ultimate, a copy of Digital Venus, and a "life size" 5 foot body pillow of Kasumi.

Ad blocker interference detected!
Wikia is a free-to-use site that makes money from advertising. We have a modified experience for viewers using ad blockers

Wikia is not accessible if you've made further modifications. Remove the custom ad blocker rule(s) and the page will load as expected.