Marie Rose/Dead or Alive 5 Ultimate command list
Talk

0
Share
Ad blocker interference detected!
Wikia is a free-to-use site that makes money from advertising. We have a modified experience for viewers using ad blockers

Wikia is not accessible if you've made further modifications. Remove the custom ad blocker rule(s) and the page will load as expected.
Something is missing...

The following table is incomplete for one or more reason.
If you wish, please examine the table, and add needed information.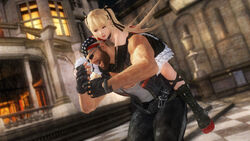 The following is the command list for Marie Rose in Dead or Alive 5 Ultimate Arcade and Dead or Alive 5 Ultimate.
Move
Type of Move
Command
Damage
Height
Listed in Command Training
Blue Star
Unique Strike
HHH
Yes
Million Stars
Unique Strike
HHMH
Yes
Million Blast
Unique Strike
HHMM
Yes
Million Shot - Rondo
Unique Strike
HHM
Yes
Lionheart
Unique Strike
HHM
Yes
White Arrow
Unique Strike
HHMM
Yes
White Sweep
Unique Strike
HHML
Yes
White Rose - Rondo
Unique Strike
HHM
Yes
Middle Flower
Unique Strike
HH
Yes
Fairy Star
Unique Strike
H
Yes
Autumnal
Unique Strike
HHM
Yes
First Flash - Rondo
Unique Strike
H
Yes
First Flash - Minuet
Unique Strike
H
Yes
Second Flash - Rondo
Unique Strike
HH
Yes
Second Flash - Minuet
Unique Strike
HH
Yes
Twinkle Star
Unique Strike
MH
Yes
Twinkle Shot - Rondo
Unique Strike
M
Yes
Twinkle Blast
Unique Strike
MM
Yes
Gungnir
Unique Strike
(Critical Burst)
M
Yes
Pink Gate
Unique Strike
M
Yes
Rose Whip
Unique Strike
MM
Yes
Rose Spike
Unique Strike
MM
Yes
Empress High
Unique Strike
MH
Yes
Sweet Pink
Unique Strike
L
Yes
White Star - Rondo
Unique Strike
LH
Yes
White Star - Minuet
Unique Strike
LH
Yes
White Mjölnir
Unique Strike
LM
Yes
Wild Cat
Unique Strike
H
Yes
Climbing Rose
Unique Strike
M
Yes
Side Rose
Unique Strike
(While side stepping)
M
Yes
Princess Heel
Unique Strike
HM
Yes
Full Moon Arrow
Unique Strike
HM
Yes
Crescent Moon
Unique Strike
H
Yes
Angelheart
Unique Strike
M
Yes
Clock Back
Unique Strike
H
Yes
Milky Arrow
Unique Strike
MM
Yes
Milky Sweep
Unique Strike
ML
Yes
Milky Rose - Rondo
Unique Strike
M
Yes
Urd Arrow
Unique Strike
M
Yes
Cat Spike
Unique Strike
M
Yes
Middle Kick
Unique Strike
M
Yes
Low Kick
Unique Strike
L
Yes
Side Middle
Unique Strike
(While side stepping)
M
Yes
Power Stone
Unique Strike
M
Yes
Twinkle Star - Rondo
Unique Strike
H
Yes
Twinkle Star - Minuet
Unique Strike
H
Yes
Sweet Perfume
Unique Strike
M
Yes
Sweet Chariot
Unique Strike
(Power Blow)
M
No
Climbing Floribunda
Unique Strike
(Power Launcher)
M
Yes
Scarlet Rose
Unique Strike
M
Yes
Water Lily
Unique Strike
M
Yes
Lolita Sweep
Unique Strike
L
Yes
Princess Drive
Unique Strike
(During Flower Wheel)
M
Yes
Dancing Doll
Unique Strike
(During Flower Wheel)
M
Yes
Spinning Kitty Flip
Unique Strike
(During Rondo)
HM
Yes
Spinning Cat Tail
Unique Strike
(During Rondo)
M
Yes
Rose Hip
Unique Strike
(During Minuet)
M
Yes
Turn Flicker
Back-Facing Strike
(With back to foe)
H
Yes
Turn Flash
Back-Facing Strike
(With back to foe)
H
Yes
Kitty Flip
Back-Facing Strike
(With back to foe)
M
Yes
Milky Pink
Back-Facing Strike
(With back to foe)
L
Yes
Wind Blast
Back-Facing Strike
(With back to foe)
HHM
Yes
Honey Arrow
Back-Facing Strike
(With back to foe)
MM
Yes
Honey Sweep
Back-Facing Strike
(With back to foe)
ML
Yes
Honey Rose - Rondo
Back-Facing Strike
(With back to foe)
M
Yes
Moonlight Sweep
Back-Facing Strike
(With back to foe)
L
Yes
Rose Lariat
Back-Facing Strike
(With back to foe)
M
Yes
Mystic Doll
Back-Facing Strike
(With back to foe)
M
Yes
Felicite Parmentier
Throw
H
Yes
Whortleberry
Throw
H
Yes
Blush Queen
Throw
H
Yes
Alba Semi-plena
Throw
H
Yes
Green Diamond
Throw
H
Yes
Evening Light
Throw
(To foe's back)
H
Yes
Ivory Tower
Throw
(To foe's back)
H
Yes
Casque d'Or
Throw
(To crouching foe)
L
Yes
Pink Prosperity
Throw
(To crouching foe)
L
Yes
Secret Garden
Throw
(To crouching foe's back)
L
Yes
Orange Ruffles
Throw
(During Flower Wheel)
H
Yes
Sweet Moon
Throw
(To foe's back during Flower Wheel)
H
Yes
Blossom Thyme
Throw
(With back to foe)
H
Yes
Nightttime
Throw
(Behind foe, with back to foe)
H
Yes
Evening Light
Throw
(To foe's back)
H
No
Milky Strike
Throw
(Next to wall)
H
No
Blackberry
Throw
(Next to wall)
H
No
Alba Maxima
Throw
(Next to wall)
H
No
White Garden
Hold
(Against a high punch)
H
Yes
Flower Princess
Hold
(Against a high kick)
H
Yes
Love Jasmine
Hold
(Against a mid kick)
M
Yes
Blooming Lily
Hold
(Against a jumping kick)
M
No
Honey Trap
Hold
(Against a mid punch)
M
Yes
Sky Planet
Hold
(Against a jumping punch)
M
No
Cherry Blossom
Hold
(Against a low punch)
L
Yes
Black Cat
Hold
(Against a low kick)
L
Yes
Fantastic Blue
Hold
(Against a high punch)
H
Yes
Butterfly Kiss
Hold
(Against a mid punch)
M
Yes
Bouquet Parfait
Hold
(Against a low punch)
L
Yes
Princess Cat
Hold
(Against a high kick)
H
Yes
Pure Violet
Hold
(Against a mid kick)
M
Yes
Pretty Cat
Hold
(Against a low kick)
L
Yes
Cinderella Heel
Ground Attack
(To knocked-down foe)
N/A
Yes
Golden Drop
Ground Attack
(To knocked-down foe)
N/A
Yes
Pop Rose
Special Move
N/A
N/A
Yes
Rondo
Special Move
N/A
H
Yes
Rondo Turn
Special Move
N/A
H
Yes
Flower Wheel
Special Move
N/A
N/A
Yes
Minuet
Special Move
N/A
N/A
Yes
Minuet
Special Move
N/A
N/A
No
Taunt: You're no fun!
Special Move

or

N/A
N/A
No
Taunt: La la la la
Special Move

or

N/A
N/A
No
Taunt: You got it dirty
Special Move

or

N/A
N/A
No
Taunt: Wow, you're enormous
Special Move

or

N/A
N/A
No
Escape Cat
Special Move
•
or

N/A
N/A
No
Taunt: I hate you, I hate you, I hate you!
Special Move

or

N/A
N/A
No