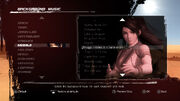 Music Mode (also known as BGM PLUS) is a mode originally introduced in Dead or Alive 5+. It allows players to choose background music for each character and gameplay mode.
In addition to 5's soundtrack, 5+ also included Dead or Alive 4 and new tracks for Mila and Rig. Dead or Alive 5 Ultimate added the soundtracks of Dead or Alive 2 and Dead or Alive 3. These are not included in the Core Fighters release and must be purchased separately. Dead or Alive 5 Last Round added the arcade/Saturn and PlayStation soundtracks of the original Dead or Alive.
Color Coding
Edit
Prior to Last Round, Superstar was the only track included from the original Dead or Alive.