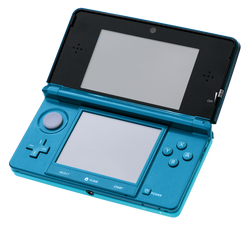 The Nintendo 3DS, abbreviated to 3DS, is a portable game console produced by Nintendo. Announcing the device in March 2010, Nintendo officially unveiled the 3DS at E3 2010, with the company inviting attendees to use demonstration units. It was officially released in 2011. The console succeeds the Nintendo DS series of handheld systems, which primarily competes with Sony's PlayStation Portable.
This autostereoscopic device is able to project stereoscopic three-dimensional effects without requirement of additional accessories, such as glasses. It also features backward compatibility with Nintendo DS series software.
A online service for the 3DS, the Nintendo eShop, was launched in June 2011, enabling 3DS owners to excess downloadable games, applications and information on upcoming film and game releases.

Related Titles
Edit
Ninja Gaiden 3DS (working title) - TBA
External Links
Edit
Ad blocker interference detected!
Wikia is a free-to-use site that makes money from advertising. We have a modified experience for viewers using ad blockers

Wikia is not accessible if you've made further modifications. Remove the custom ad blocker rule(s) and the page will load as expected.