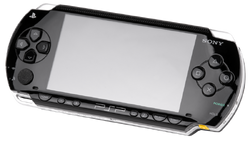 The PlayStation Portable, officially abbreviated as PSP, is a seventh-generation handheld game console, released and manufactured by Sony Computer Entertainment. Its development was first announced during E3 2003, and it was officially unveiled at a Sony press conference before E3 2004. The system was later released in late 2004.
The PlayStation Portable is the first and only handheld video game console to use an optical disc format, Universal Media Disc (UMD), as its primary storage medium. Other distinguishing features of the console include its large viewing screen, robust multi-media capabilities, and connectivity with the PlayStation 2, PlayStation 3, other PSPs, the PlayStation Network, and the Internet.

External Links
Edit
Ad blocker interference detected!
Wikia is a free-to-use site that makes money from advertising. We have a modified experience for viewers using ad blockers

Wikia is not accessible if you've made further modifications. Remove the custom ad blocker rule(s) and the page will load as expected.