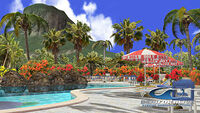 Poolside is a location in the Dead or Alive Xtreme series, found outside the hotel of Zack Island, or New Zack Island. It possesses a large swimming pool, complete with a drinks bar. Deck chairs are available for those interested in sunbathing, and tables for those enjoying beverages from the bar.
The pool is also set up to play Pool Hopping, where the participants hop across the pool via floating pads. In Dead or Alive Xtreme 2, the pool is also used for Tug-of-War and Butt Battle. Butt Battle is also playable here in Dead or Alive Paradise.
Dead or Alive Xtreme Beach Volleyball
Ad blocker interference detected!
Wikia is a free-to-use site that makes money from advertising. We have a modified experience for viewers using ad blockers

Wikia is not accessible if you've made further modifications. Remove the custom ad blocker rule(s) and the page will load as expected.