Things are shaping up nicely...

This article/section is currently under construction. The information on this page should not be considered as accurate or complete. Please remove this tag if this page hasn't been edited recently.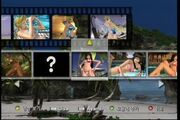 Virtual Pictorial is a gameplay mode in Dead or Alive Xtreme 2, which allows the player to view all Venus Clip scenes of the Dead or Alive girls as they relax around Zack Island. It was renamed Private Paradise in Dead or Alive Paradise.
To unlock Virtual Pictorial for a girl, the player must have a complete swimsuit collection for her. For example, you can only unlock Kasumi's pictorial mode if you have every swimsuit from the game in Kasumi's collection.