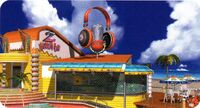 The Radio Station is a location from the Dead or Alive Xtreme series, which emits music that can be heard anywhere on Zack Island in Dead or Alive Xtreme Beach Volleyball, or New Zack Island in Dead or Alive Xtreme 2 and Dead or Alive Paradise.
Operated by "DJ Zack" himself, the station is open to requests; the player can choose which song is played during gameplay. While the station possesses the games' own track lists, the player can upload their own music from the video game console they are playing on.
Ad blocker interference detected!
Wikia is a free-to-use site that makes money from advertising. We have a modified experience for viewers using ad blockers

Wikia is not accessible if you've made further modifications. Remove the custom ad blocker rule(s) and the page will load as expected.