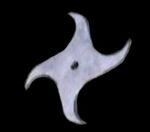 Shuriken (手裏剣, lit. "throwing blade") are a traditional ninja weapon projectile that comes in various shapes for various purposes. Usually star shaped, Shuriken are implements designed to cause injury when thrown at an enemy, and most Ninja carry them at all times. Due to the disposable nature of these weapons, expensive materials are rarely used in their construction. However, they are crafted with great precision in order to stabilize their trajectory when thrown, thereby increasing accuracy.

Ad blocker interference detected!
Wikia is a free-to-use site that makes money from advertising. We have a modified experience for viewers using ad blockers

Wikia is not accessible if you've made further modifications. Remove the custom ad blocker rule(s) and the page will load as expected.