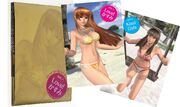 The Side A&B Photo Books are two limited edition, softcover books which were released for the Dead or Alive series's 10th anniversary. These A4-sized books feature full-page, colored renderings of the Dead or Alive girls, mostly from the later games in the series. The books included in the set are Love! Kasumi, a 72-page book dedicated entirely to Kasumi with a pull-out poster, and Kiss! Gals, which feature about 144 images of all the girls, with a pull-out poster of Kasumi and Ayane.
On their own, the books can cost from ¥1,500 to ¥2,200 (about $18 to $26). As a set, the books come in a golden case sleeve, and can cost about ¥3,700 ($44).

Ad blocker interference detected!
Wikia is a free-to-use site that makes money from advertising. We have a modified experience for viewers using ad blockers

Wikia is not accessible if you've made further modifications. Remove the custom ad blocker rule(s) and the page will load as expected.