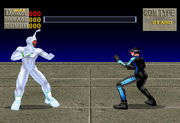 Training Mode, also known as Sparring Mode, is a gameplay mode found in all Dead or Alive games.
Free Training
Edit
In this mode the player "trains" and develops their fighting skills against a placid opponent that can be programmed to either stand still, block, counter or attack at varying degrees of difficulty. The Training Mode has no time limit, nor can any characters be "Knocked Out". The primary function of this mode is for the player to learn and practise each character's moves to be implemented in other modes such as the Survival Mode or Story Mode.
Command Training
Edit
Players go through each move in a character's Command List. Some moves, like those that must be performed next to a wall, may be excluded from Command Training.
In the original Dead or Alive 5, the Story Mode also acts as a tutorial. In Dead or Alive 5+, the tutorial is expanded and turned into its own mode, separate from the story.
Combo Challenge
Edit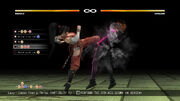 Introduced in Dead or Alive 5+, the Combo Challenge is similar to Trials in other fighting games. Each character has 20 challenges, starting with basic moves and moving up to the Power Blow, Critical Burst combos, juggling with the Power Launcher (starting in Dead or Alive 5 Ultimate), combo against featherweight characters, and ending with a tag combo.
Training Mode themes
Edit
Ayane first appeared in the Sega Saturn version of Dead or Alive as the "training dummy" players train against.