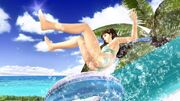 Water Slide is a mini-game featured in Dead or Alive Xtreme 2. Playable only at New Zack Island's very own water slide, the game involves the player successfully navigating their character as they slide down the water on a rubber ring at high speeds.

The basic gameplay revolves around keeping the player-character from falling over the sides of the slides as it twists and turns by stirring left and right with the left analong stick. Pushing forward on the analog speeds the character and rubber ring up, and pulling back slows them down.
Ad blocker interference detected!
Wikia is a free-to-use site that makes money from advertising. We have a modified experience for viewers using ad blockers

Wikia is not accessible if you've made further modifications. Remove the custom ad blocker rule(s) and the page will load as expected.