We have to grow stronger...

This article/section is in need of improvement. If you have a good knowledge of the subject, feel free to add your information to the article. Once improvements have been made, this notice may be removed.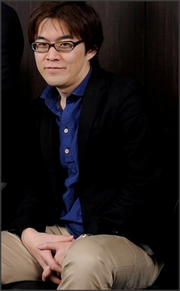 Yosuke Hayashi (早矢仕 洋介 Hayashi Yōsuke) is the current head of the Koei Tecmo development studio, Team Ninja.
He first came to prominence with his work in directing the development of the Nintendo DS game Ninja Gaiden: Dragon Sword and Ninja Gaiden Sigma for the PlayStation 3. Following the turbulent departure of former Team Ninja lead Tomonobu Itagaki, Hayashi was promoted and given the studio's creative reigns. His first projects as Team Ninja lead include Ninja Gaiden Sigma 2 and the Wii title Metroid: Other M.