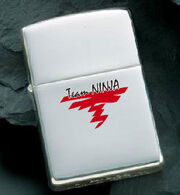 A series of three limited edition Zippo Lighters were released as Dead or Alive Xtreme 2 merchandise. The lighters are a light-colored metal, and designed with photo prints. The lid bares the Xtreme 2 logo, the back feautres the Team Ninja logo, and the front has a headshot of either Ayane, Hitomi, or Kasumi. The lighters cost about ¥10,000 ($188) each.

Ad blocker interference detected!
Wikia is a free-to-use site that makes money from advertising. We have a modified experience for viewers using ad blockers

Wikia is not accessible if you've made further modifications. Remove the custom ad blocker rule(s) and the page will load as expected.